Stay Meta – a social platform for gamers

Reddit, Twitter, Twitch, and YouTube. Gamers and content creators alike use social media platforms to upload their content and stay in touch with their followers. But what if there was another way to condense them into a single, centralized location where all gaming content could converge? This is where Stay Meta comes in.
I and my brother worked on this during the pandemic. There wasn't much to do in our free time but to play video games and consume gaming content. Streams and YouTube videos from gamers were (and are) at an all-time high. The struggle was however that if we liked a specific content creator or streamer, we would have to keep an eye on their YouTube and Twitch to keep up with their content. Some updates also came from Twitter, and on rare occasions from Reddit. It's easy to miss cool stuff this way.
We came up with this idea about having a website or an app where all of this content could be seen. Ideally filtered by game, so if I wanted to watch videos about Overwatch, or streams for Fortnite, I could simply go to the game and consume any content that's available from the content creators associated with that game.
Our initial prototypes were based on the idea that gamers and streamers would go to this website and manually upload or link their content. We presented this to our streamer friends who suggested that content should be automatically pulled from their public profiles in Twitch and YouTube, making it as easy as possible for YouTubers and Twitch streamers to get their content exposed without having to manually post it on the platform.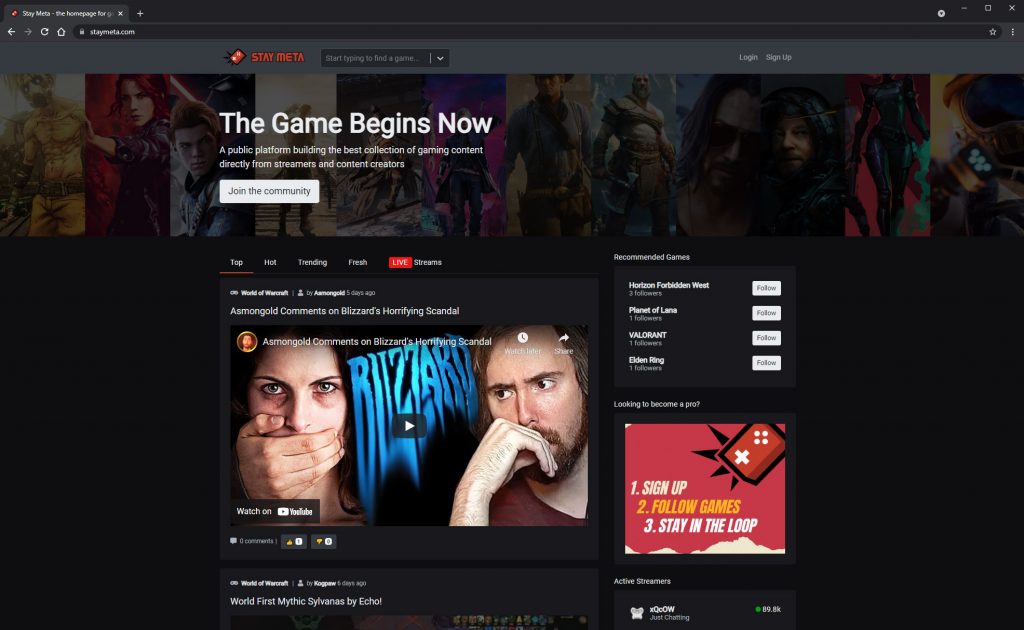 By consuming the YouTube and Twitch APIs, we were able to automatically inject content from these platforms into the portal. Create your streamer profile, connect your Twitch account, sit back and relax. That's the motto, and it works wonders!
We truly believe that gaming and streaming are great legitimate ways to entertain and even earn a living. With Stay Meta, we know that the platform can help streamers showcase their content to gamers all over the world, and a safe place for gamers to have fun. It's a new tool that we are sure will be welcomed by streamers who are just getting started in their careers, as well as professional streamers alike. Stay Meta will certainly revolutionize the way gaming content is consumed.
If you are a streamer, gaming YouTuber, or a gamer, have a look at staymeta.com, create your profile, follow some games and take it for a spin. If you have any comments or suggestions, reach out to me or anyone on the team at hello@staymeta.com.
See you in-game and remember to "stay" meta!